R nineT Scrambler
MSRP From $14,450
Total Selling Price From $15,650*
*Prices and specifications shown are based on Manufacturer's Suggested Retail Prices (MSRP). Retailers are free to set individual prices. Freight & PDI, options, retailer preparation, applicable levies (tire tax), industry fees, and administrative fees are included in the Total Selling Price, which is the summation of the MSRP plus all applicable fees as an example for informational purposes only. Applicable taxes are extra. Pricing based on a cash transaction. Finance offers are also available. See your authorized BMW Motorrad Retailer for accurate details. BMW Canada Inc. reserves the right to revise pricing and/or specifications at any time without notice.
European model shown and may include optional equipment or accessories. We do not warrant the accuracy, completeness, reliability or currency of such descriptions. See your authorized BMW Motorrad Retailer for accurate details. BMW Canada Inc. reserves the right to revise pricing and/or specifications at any time without notice.
The BMW R nine T Scrambler.
HONEST. UNTAMED. AIR COOLED.
Break away and accelerate toward freedom, experience new things and enjoy the rush of wind – with the BMW R nineT Scrambler. A rugged bike with that authentic scrambler look, combined with the innovative technology and familiar quality of BMW Motorrad. Whether in the city, on winding country roads or on the beach, the potent opposed-twin engine and high-positioned dual silencers deliver powerful acceleration and an unmistakable sound. Even long trips with two people are a breeze thanks to the relaxed seating position and in just a few steps you can give your R nineT Scrambler your own personal touch.
The design of the R nine T Scrambler
Choose your style.
Your motorcycle, your choice: There are three different paintworks for the R nineT Scrambler. Make a decision between Stereo metallic matt or the two finishes from the individualisation offer of BMW Motorrad Spezial - Option 719 Black storm metallic / Aurum and Option 719 Black storm metallic / Light white.
The R nineT Scrambler harks back to the legendary scrambler era and has all the hallmarks of this extraordinary type of motorcycle: a telescopic fork with bellows, a distinctive raised exhaust and a large 19-inch front wheel. The compact steel tank in Monolith metallic matt highlights the puristic look. In addition, the optional cross-spoke wheels with studded off-road tires make it clear from the first glance that no ride need be over when the road comes to an end. The seat in leather style and the speedometer with analogue display are also eye-catchers. High-quality details like the round headlights with BMW emblem complete the classical heritage look perfect.
+ Read more
Twin-cylinder boxer engine
110
HP (81kW) at 7,750 rpm
220
kg unladen weight, road ready
Air/oil-cooled, four-stroke twin-cylinder boxer engine
Powerful boxer for dynamic riding fun.
Powerful boxer for dynamic riding fun.
The engine and electrical system are already proven components of the BMW R nineT. The beefy, air-cooled twin-cylinder boxer engine features a capacity of 1,170 cc and 81 kW (110 bhp) of output for a highly dynamic riding experience. Thanks to standard ABS and optional ASC you can take this power safely to the streets any time.
+ Read more
Experience the sound of the R nine T Scrambler
The highlights of the R nine T Scrambler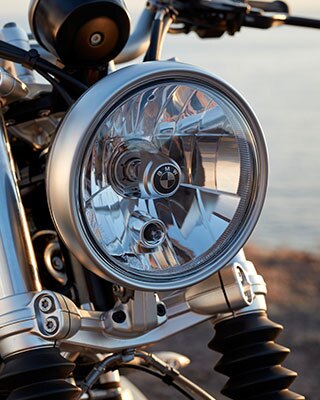 Telescopic fork with bellows.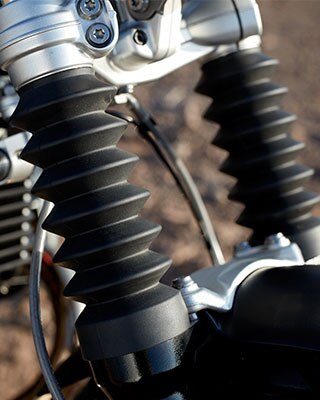 Speed indicator with analogue display.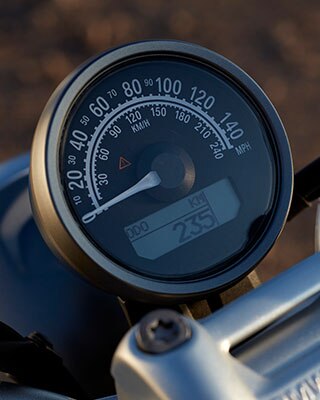 Roughly toothed foot rests.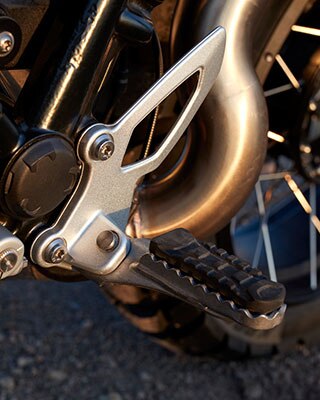 Seat in patented leather style.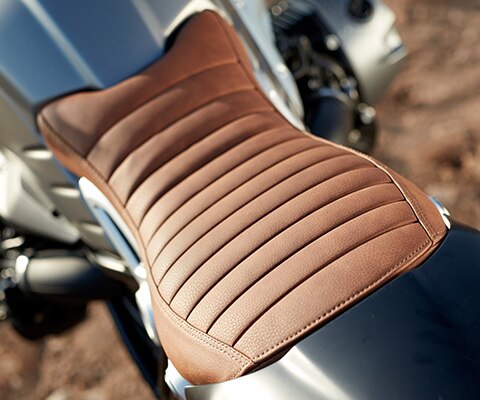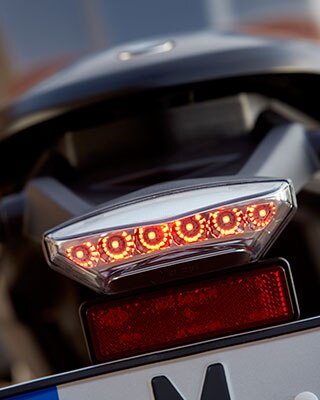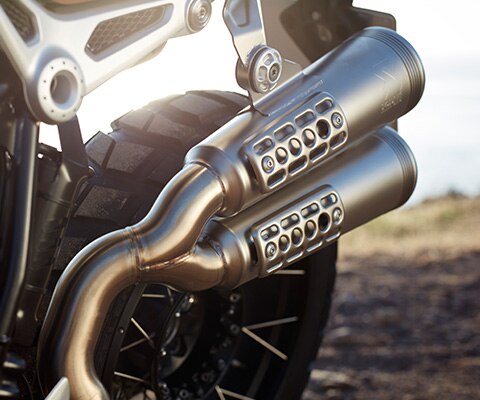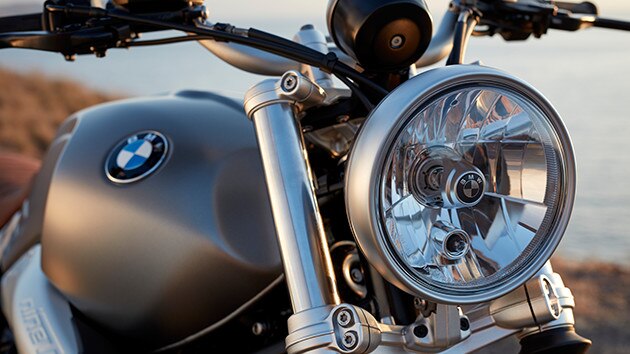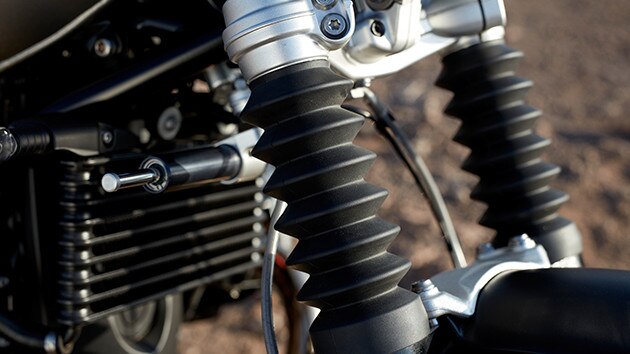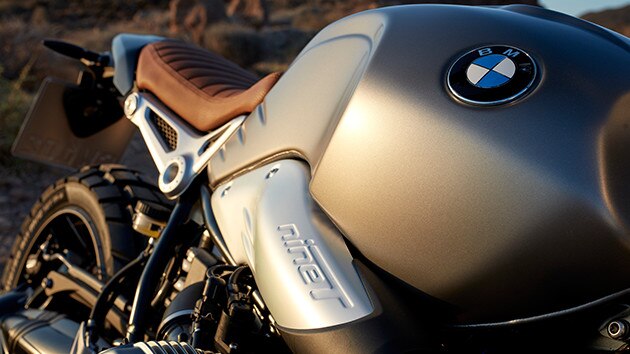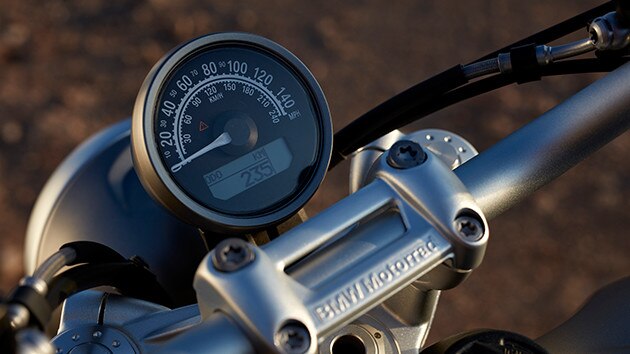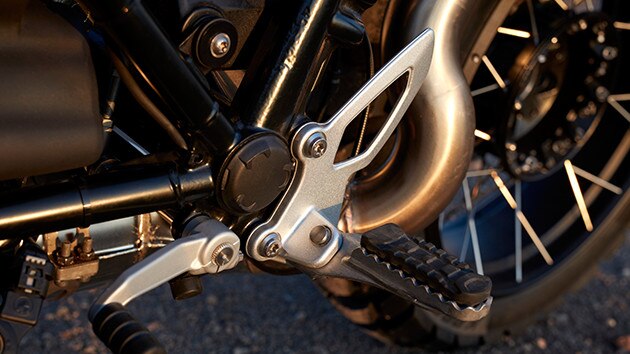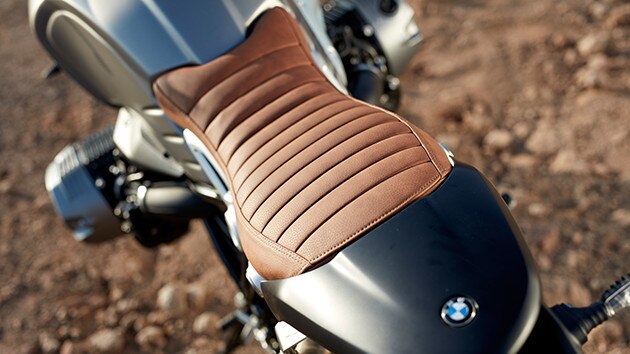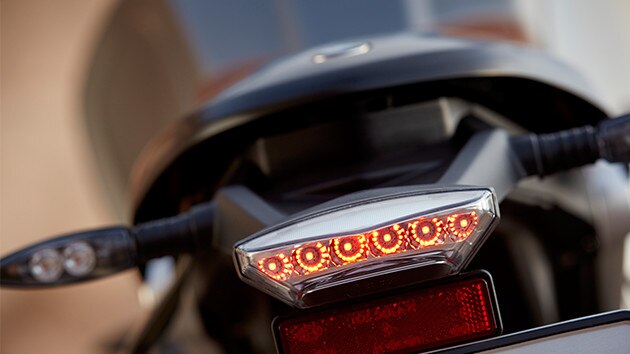 Casual Scrambler feeling.
Casual Scrambler feeling.
A relaxed upright riding position is one of the key features of a scrambler. It not only looks laid back, it also makes for a relaxed feel.  Even long rides to the nearest beach are a breeze thanks to the bike's higher handlebars and lower footrests as compared with the R nineT.
+ Read more
No limits.
No limits.
Endless customization: The R nineT Scrambler provides a whole host of ways to change the visual appearance and therefore, the character of the dynamic boxer completely to your taste. With the tailored range of exclusive designer optional equipment from BMW Motorrad Spezial and the Original BMW Motorrad accessories, you can make the bike match perfectly with your personal preferences.  Even professional customizers can really let off steam creatively: thanks to the high degree of customization, there are practically no limits when it comes to the R nineT Scrambler. 

+ Read more
BMW Motorrad Spezial
Bring your character onto the road.
No tinkering, no surprises, no compromises. With BMW Motorrad Spezial, you get a bike with your personal touches and the highest quality standards.
At BMW Motorrad Spezial, you will find particularly high-quality designer optional equipment such as the exclusive Option 719 milled parts set and Spezial colours or performance enhancing accessories from HP Parts.
The interplay between long-standing development skills from BMW Motorrad and the interaction of complex production processes connected with tradition-steeped craftsmanship facilitate a new level of significance and exclusivity.
Learn more
Just beautiful.
BMW Motorrad Days 2018: the community loved it!
It's become a must-attend event for BMW motorbike fans. Set amidst the stunning mountains of Germany's Zugspitze, more than 35,000 visitors came from all over the world to celebrate their common passion for motorised two-wheelers. This year's highlights included break-neck performances by Busty Wolter and his freestyle motocrossers, as well as breath-taking shows by stunt riders Mattie Griffin and Dirk Manderbach, who got the audience cheering in astonishment. The wooden "cauldron" of the Motodrom was all about four roaring BMW R 25s, while tyres smoked and screeched at the drift show in the event arena. Another must-see was the presentation of the new series colours and special paint finishes – thanks to the design range "Option 719", colourful new combinations spruced up the atmosphere of the exhibition tent. The excitement didn't die out in the evening either: bands and DJs did their part to keep spirits high well into the night. The event was an all round success, entertaining from the start and ending on Sunday with typical German "Gemütlichkeit" (a cosy, relaxing feeling). Even as everyone started packing up to return to every corner of the world, plans are already in the works for the 19th BMW Motorrad Days, from 5-7 July 2019. Mark your calendars today! We look forward to seeing you.  
Read more