F 800 R
MSRP From $10,900
Total Selling Price From $12,100*
*Prices and specifications shown are based on Manufacturer's Suggested Retail Prices (MSRP). Retailers are free to set individual prices. Freight & PDI, options, retailer preparation, applicable levies (tire tax), industry fees, and administrative fees are included in the Total Selling Price, which is the summation of the MSRP plus all applicable fees as an example for informational purposes only. Applicable taxes are extra. Pricing based on a cash transaction. Finance offers are also available. See your authorized BMW Motorrad Retailer for accurate details. BMW Canada Inc. reserves the right to revise pricing and/or specifications at any time without notice.
European model shown and may include optional equipment or accessories. We do not warrant the accuracy, completeness, reliability or currency of such descriptions. See your authorized BMW Motorrad Retailer for accurate details. BMW Canada Inc. reserves the right to revise pricing and/or specifications at any time without notice.
The BMW F 800 R.
The modern all-rounder.
You can do anything with this active roadster, from urban cruising, touring or ambitious sporty riding on winding country roads. The BMW F 800 R combines agility, everyday practicality and dynamic performance in an integrated sporty package. Thanks to its punchy 66 kW (90 hp) engine, you'll feel what it's made for every time you twist the throttle: supreme handling and total control of the road. But the F 800 R delivers more than just sporty performance and easy handling, it also features innovative technology: Ride-by-Wire and a range of riding modes, ABS as standard and optional systems like ASC or Dynamic ESA make sure all that power is transferred securely to the road.
The design of the F 800 R
Choose your style.
Three colours highlight the dynamic design. The F 800 R looks especially sporty and dynamic in BMW motorsport colours. You can choose a red wheel lining in tribute to the S 1000 RR – the iconic superbike.
You can tell by its looks alone, the F 800 R is the perfect bike if you just want to get on and have fun. The precise lines and minimalist trim elements give it a sense of light-footed agility, while the upside-down fork is suggestive of dynamic forward thrust even when stationary. The high performance cockpit features a new dial design and the clear multifunction display now gives you even more information. Another highlight is the new rear silencer, which not only looks as good as it sounds, it also meets the EU-4 standard.
+ Read more
Two-cylinder in-line engine
90
HP (66 kW) at 8,000 rpm
203
kg empty weight, fully filled up
F 800 RWater-cooled, four-stroke twin-cylinder engine
Powerful twin-cylinder for dynamic thrust.
Powerful twin-cylinder for dynamic thrust.
A powerful, water-cooled 798 cc two-cylinder in-line engine ensures dynamic forward propulsion. With 66 kW (90 hp) of power at 8000 rpm, it features fast response characteristics, impressive punch and excellent fuel efficiency – and it meets the new EU-4 standard. 
+ Read more
Experience the sound of the F 800 R
The highlights of the F 800 R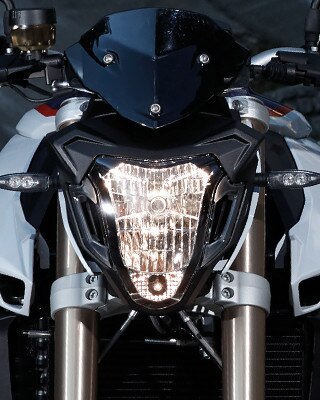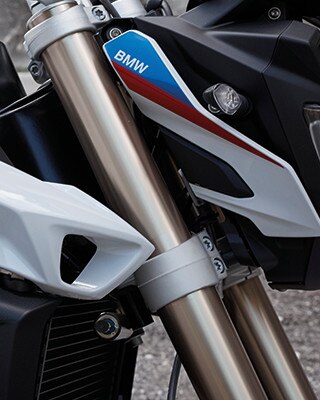 Multifunctional instrument cluster.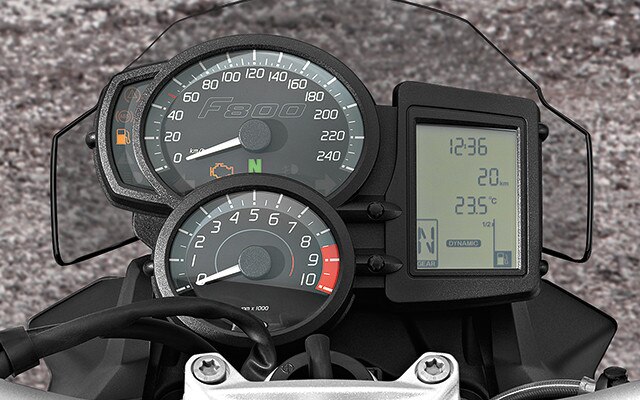 Adjustable clutch and brake levers.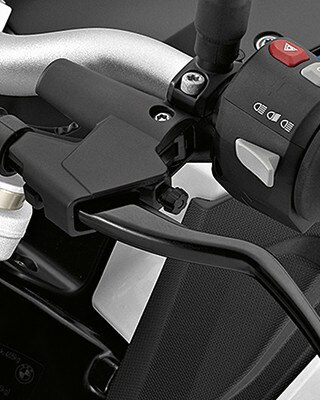 Minimalistic trim panelling.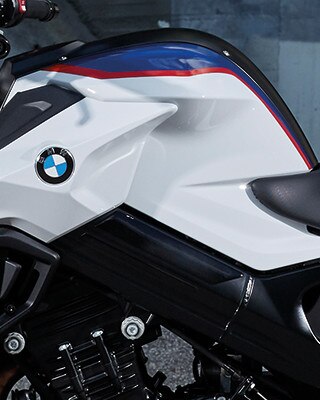 Wheels in dynamic design.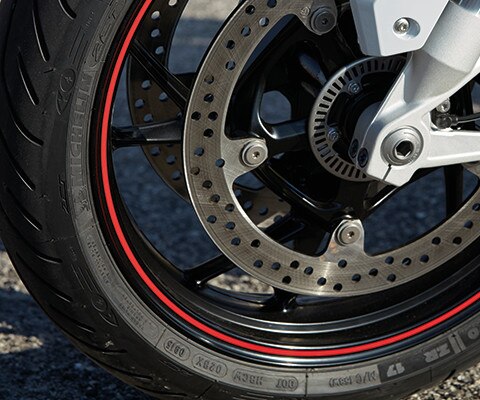 Wide selection of seat variants.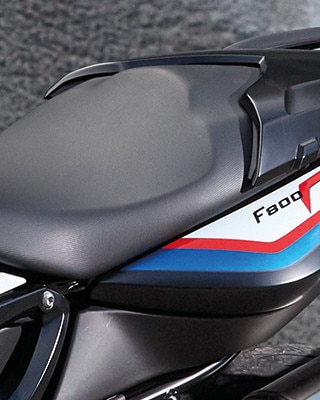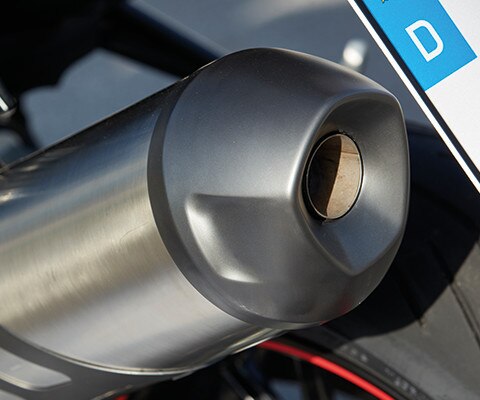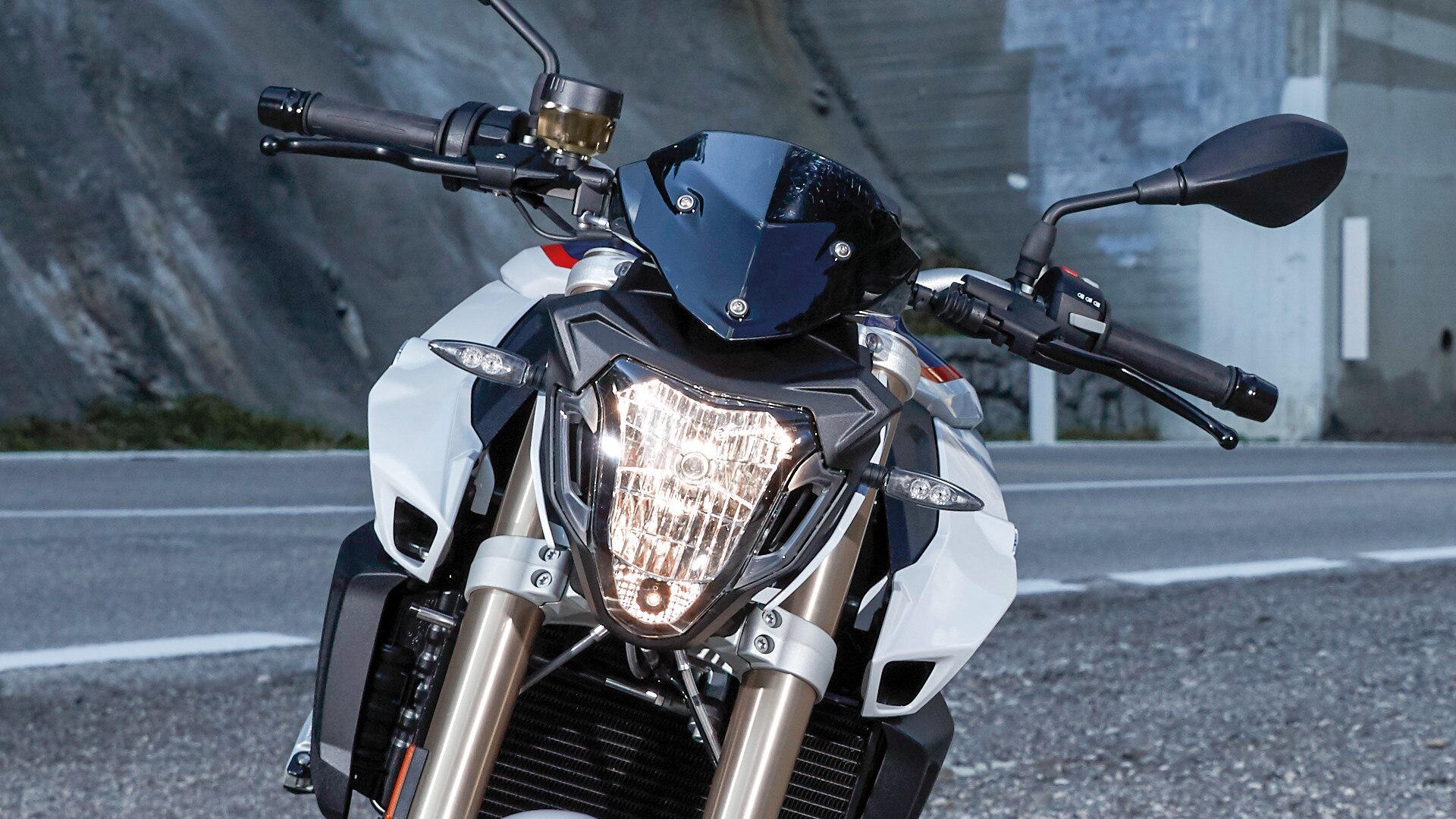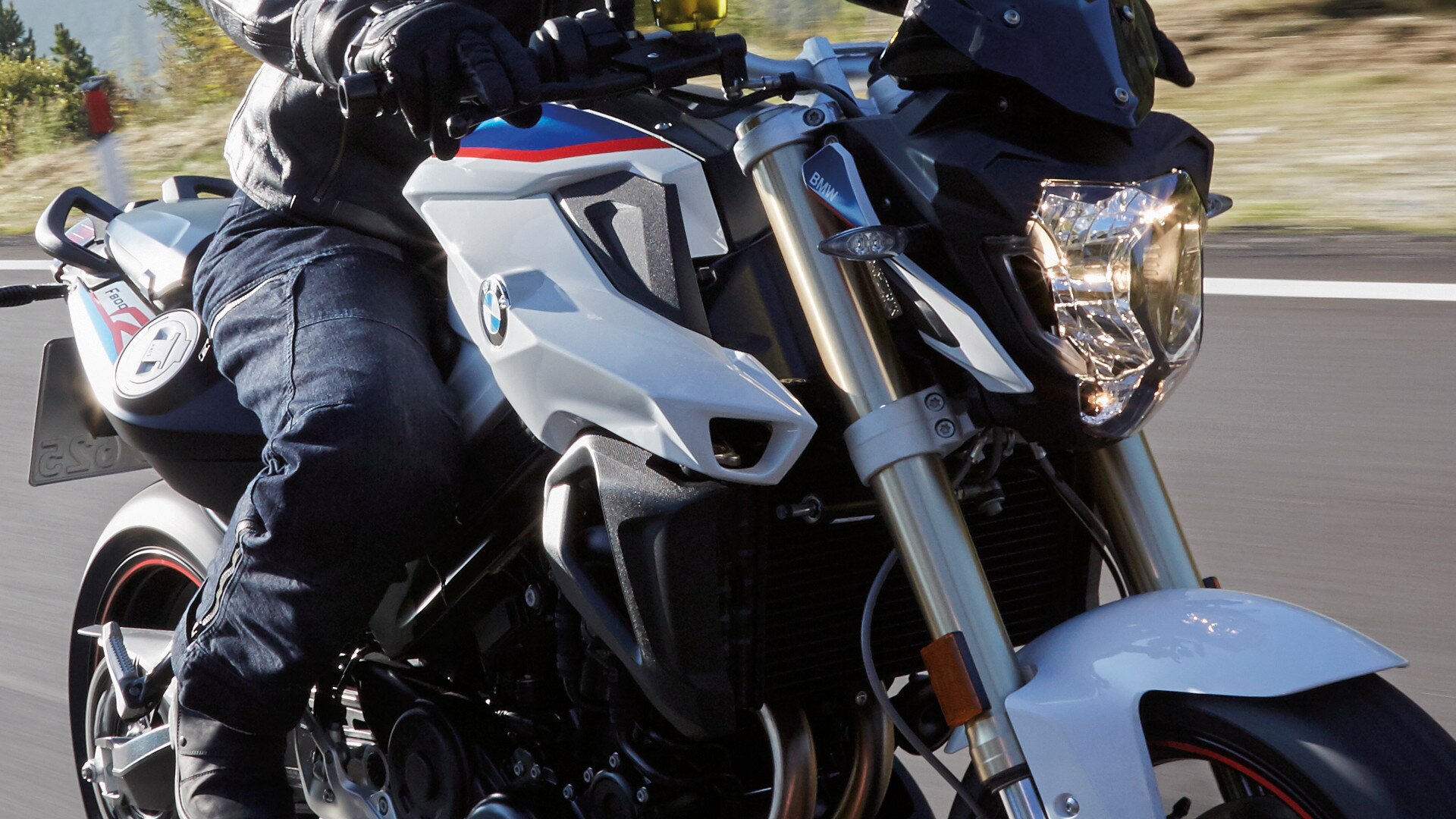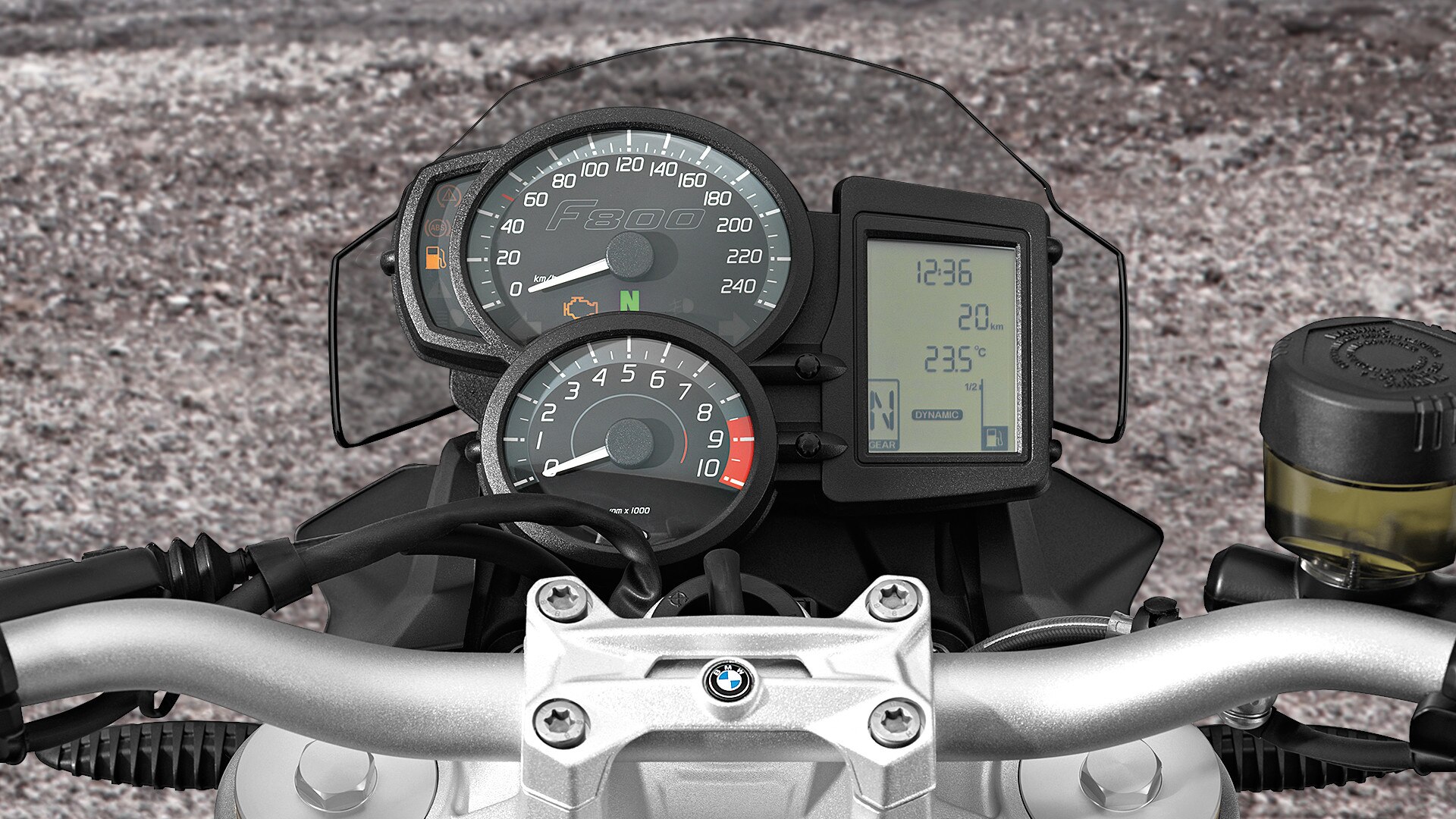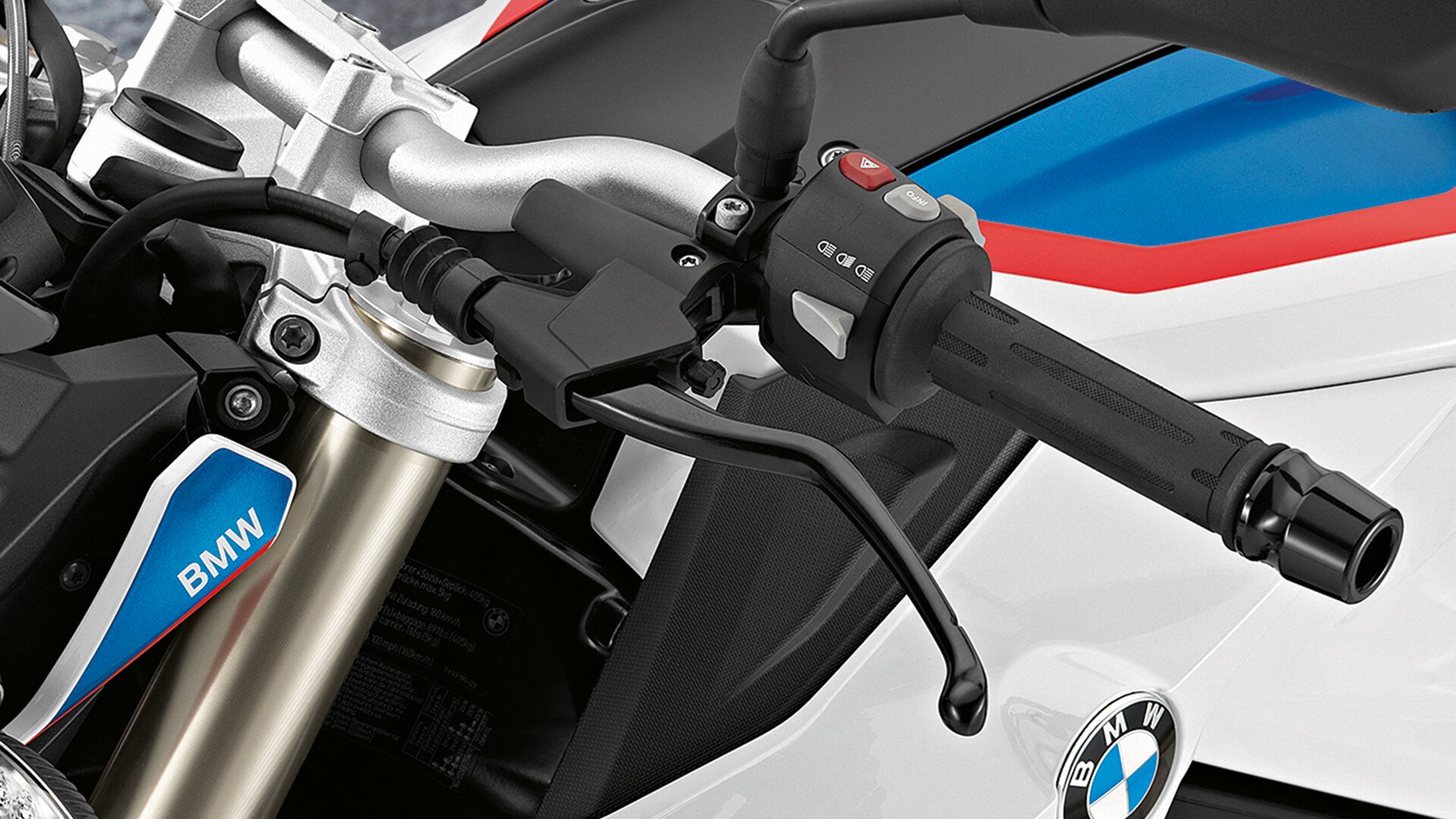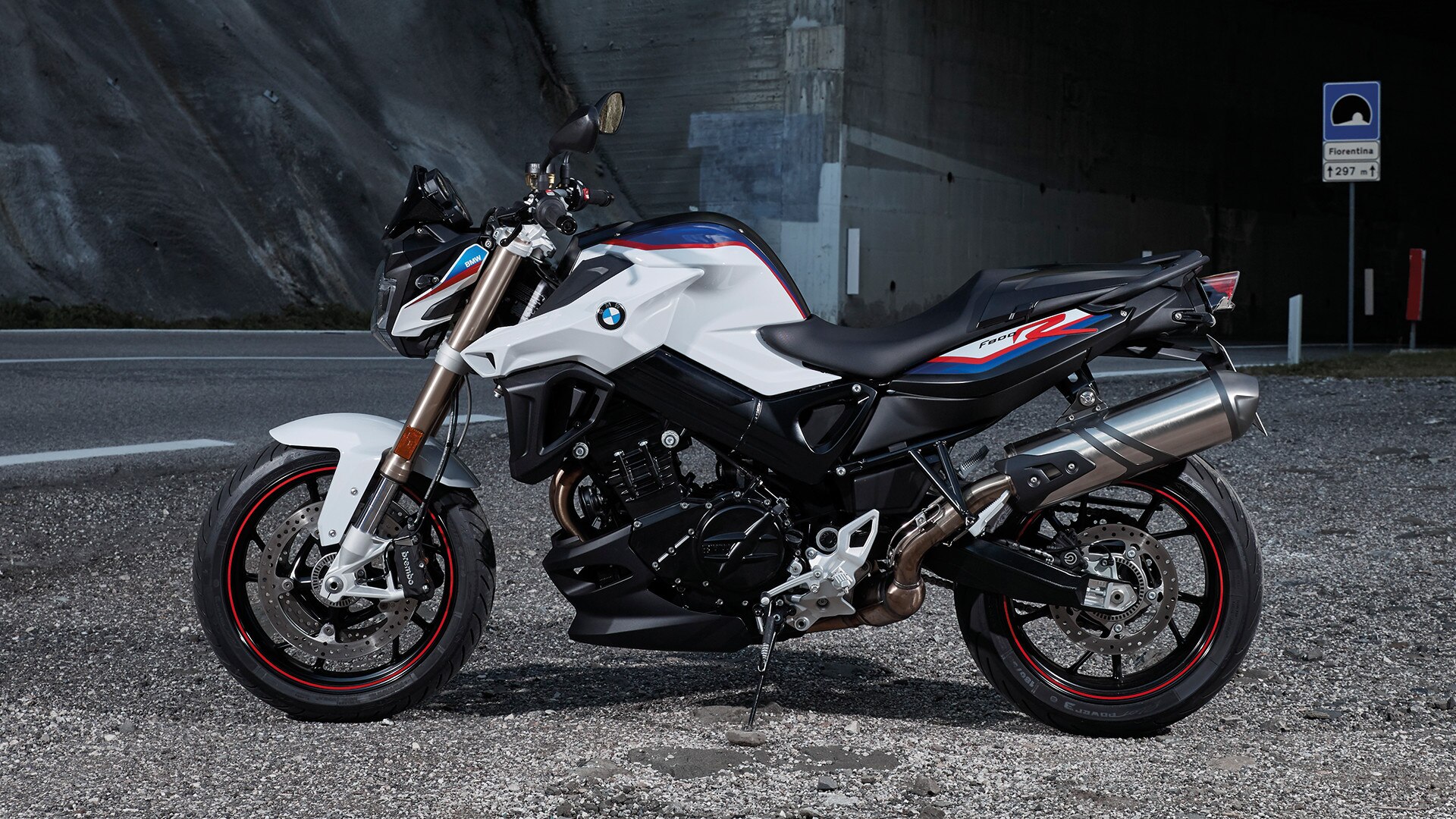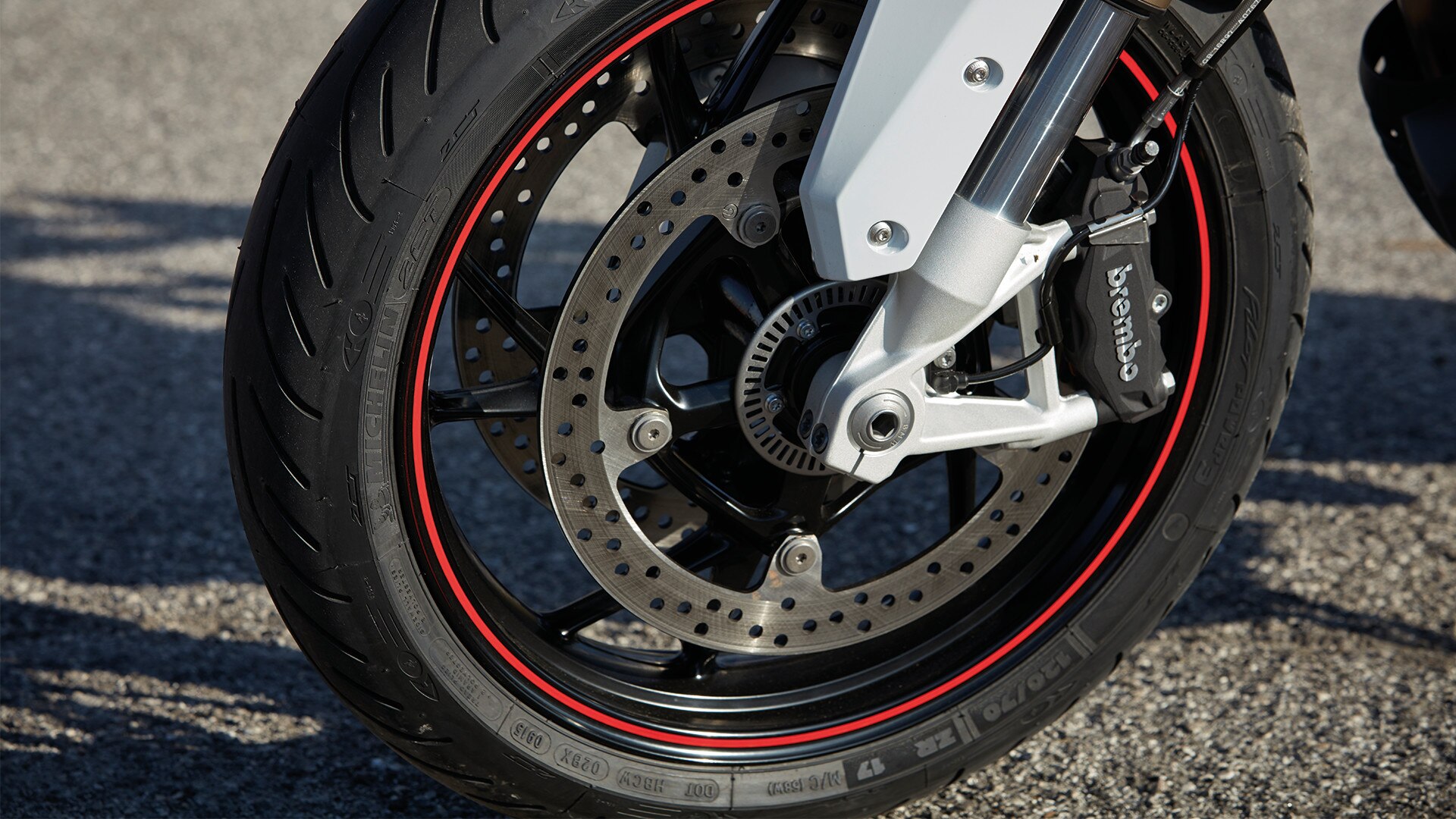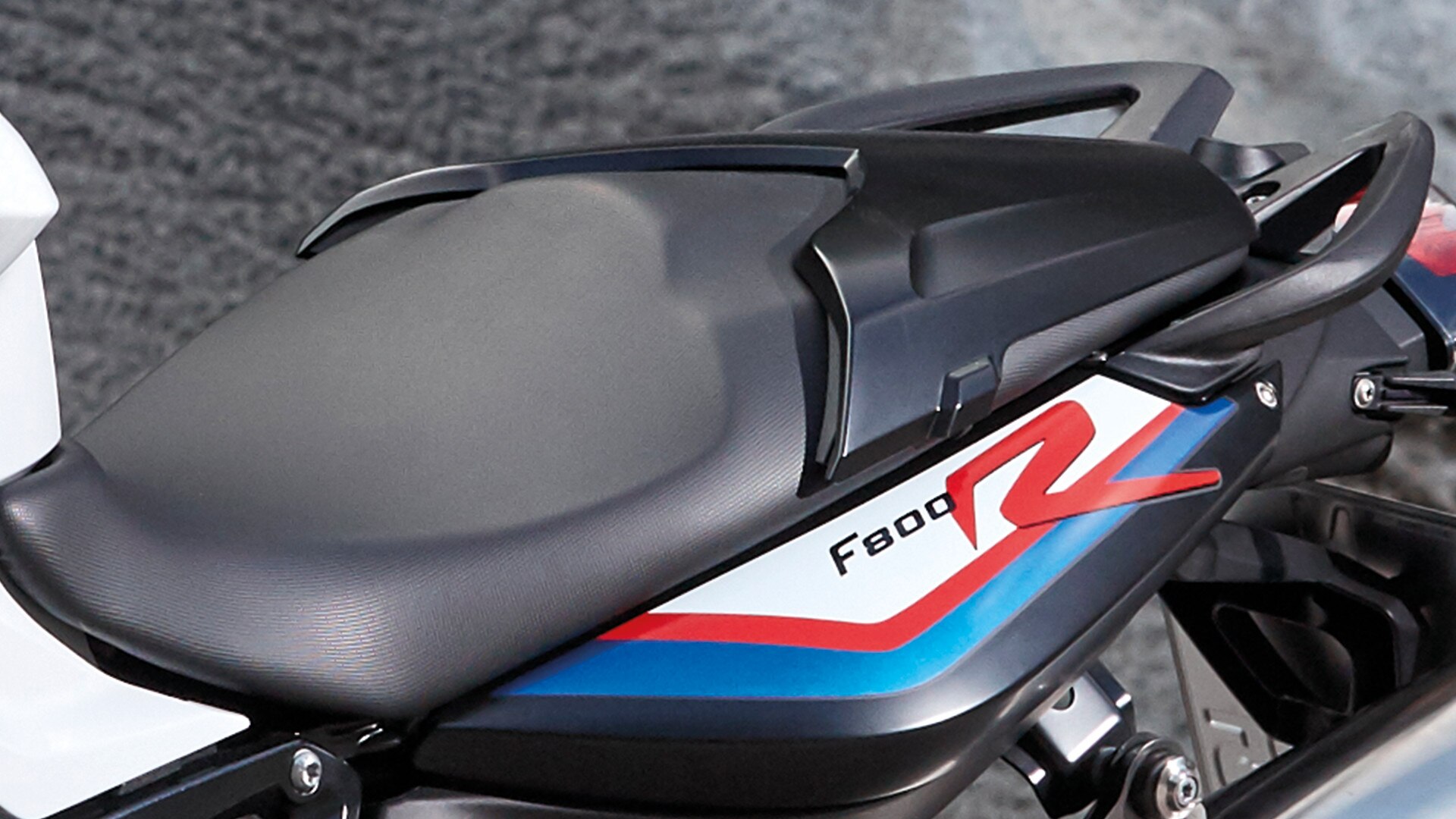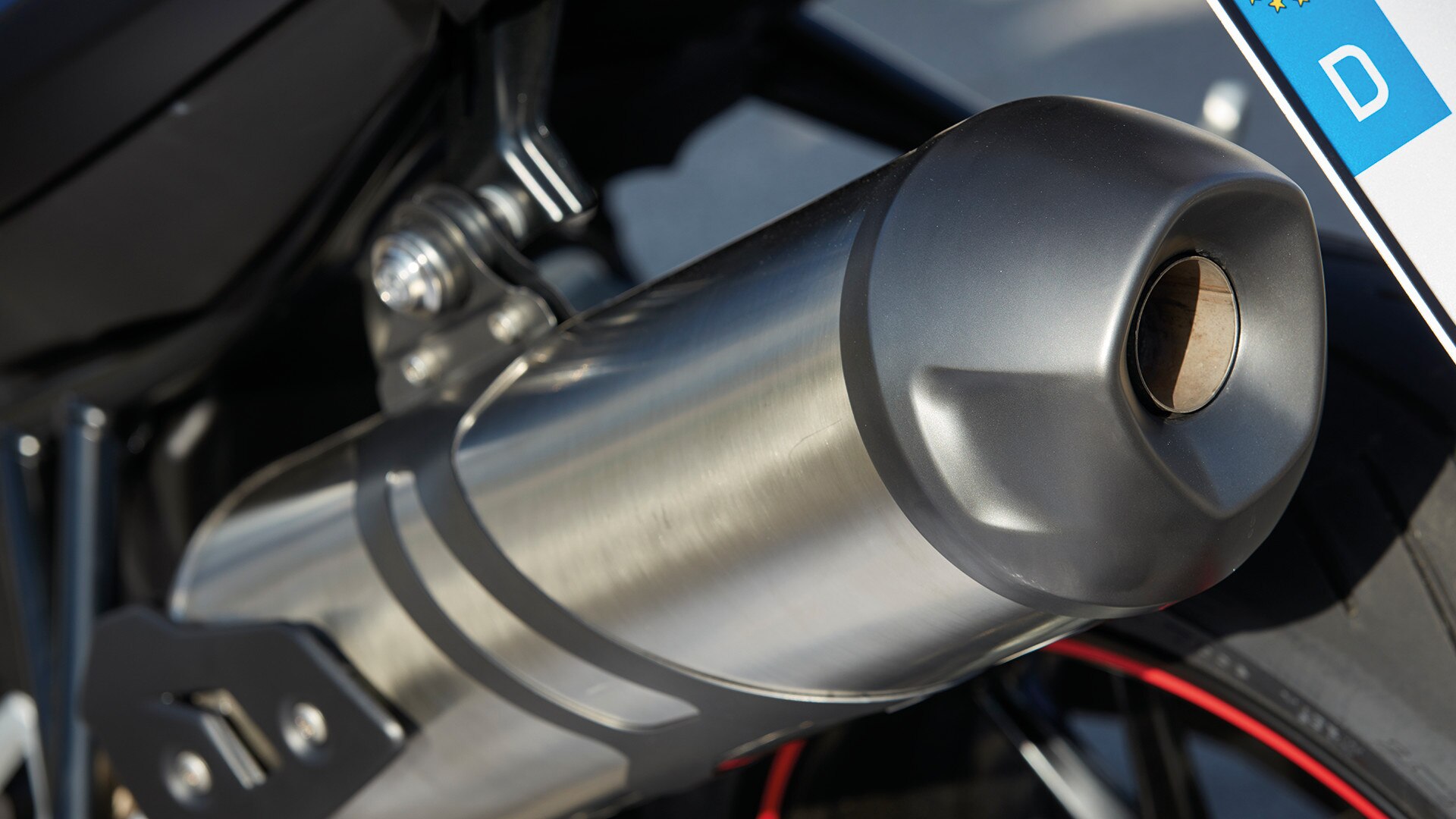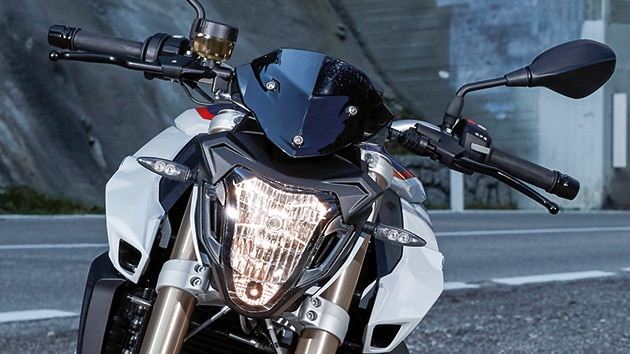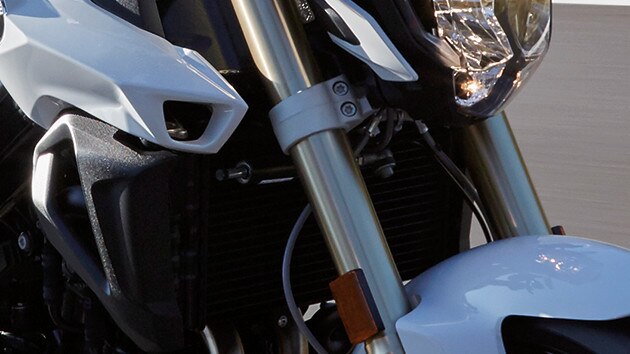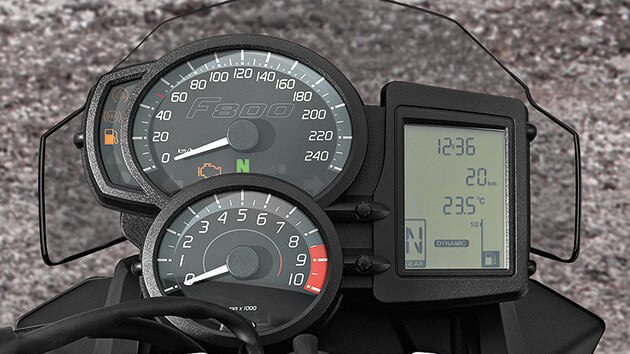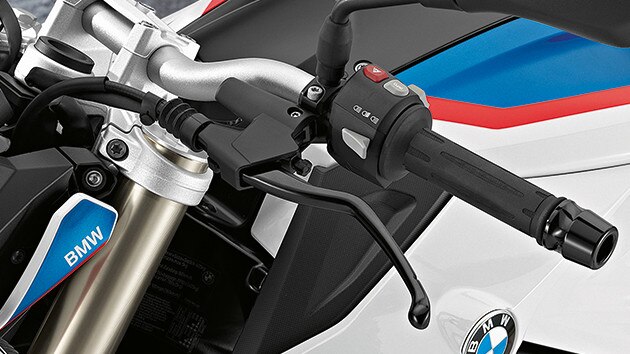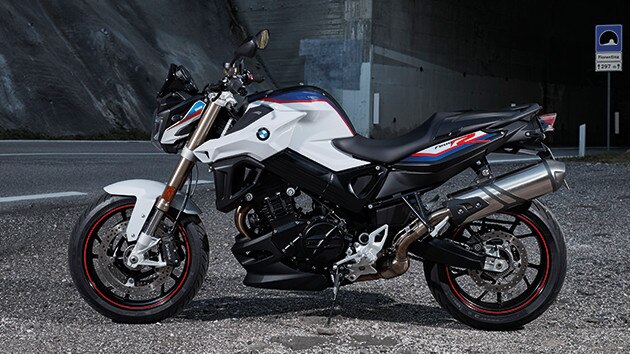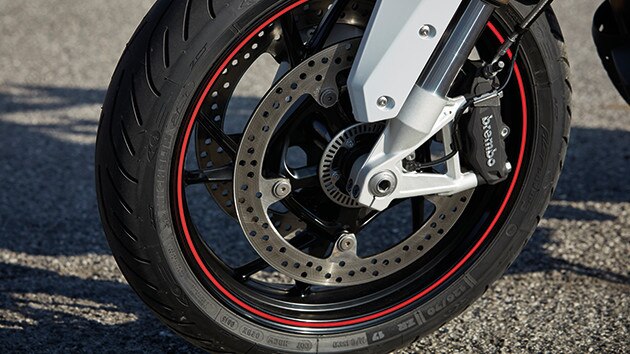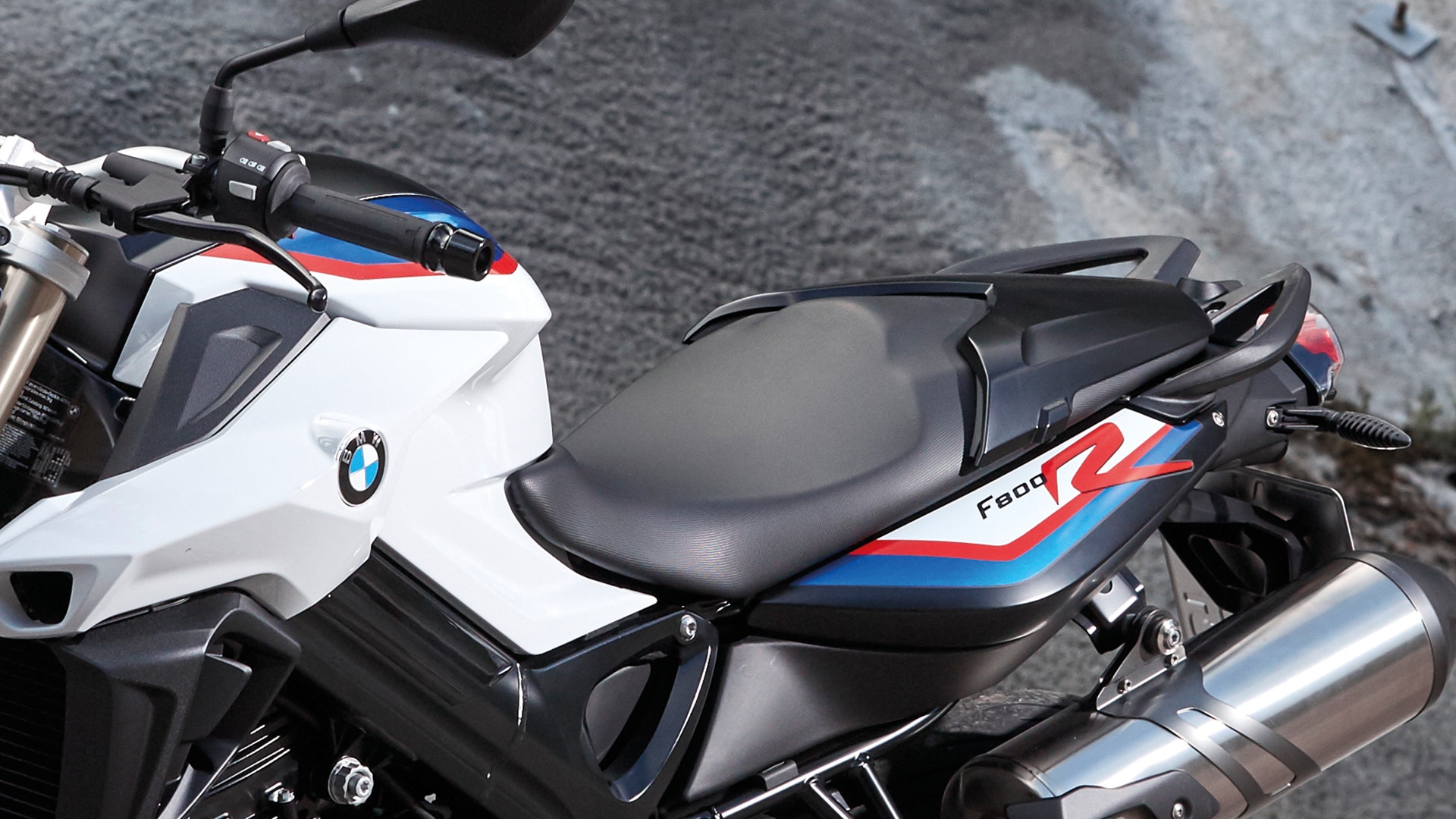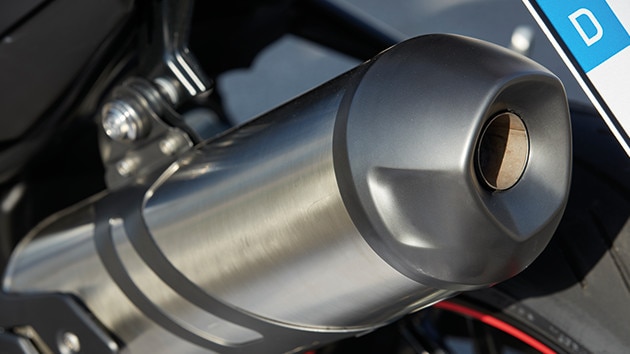 Move ahead safely.
Move ahead safely.
The F 800 R is designed for pure and simple riding pleasure, but safety is also a priority.  All models feature a BMW Motorrad ABS and a stable, balanced suspension for supreme performance and absolute control of the road. Other options include ASC (Automatic Stability Control) and Dynamic ESA (Electronic Suspension Adjustment) for even greater safety, performance and comfort. Ride-by-Wire gives you much finer throttle control. Thanks to the standard Rain and Road modes and the optional Dynamic mode, the F 800 R can be adapted even better to any road surface and riding style.
+ Read more
Limitless personalization.
Limitless personalization.
You can tailor the bike to meet your exact ergonomic needs thanks to standard adjustable clutch and brake levers and a large selection of seat variations. BMW Motorrad also offers a wide range of optional equipment and accessories for personalizing your F 800 R. For example, you can choose the new raised handlebars. Combined with a low seat, this option is perfect for a more relaxed riding position, especially for smaller riders.
+ Read more
Portrait of Chris Pfeiffer
From teacher to stunt legend.
Chris Pfeiffer and the revolution of stunt riding.
He raised stunt riding to a completely new level: Chris Pfeiffer awed the audience with his breathtaking tricks and is an idol to countless stunt riders, who all strive to become him. For ten years, Chris competed successfully on two wheels for BMW Motorrad – albeit most of the time just on one.
It all began in the garden. Here, Christian Pfeiffer would hop over tree roots and pull wheelies around the vegetable patch. The first races were not far behind. At the age of ten, he lined up for his first race. When he was 20, he already had 300 trophies on his shelf at home. And yet he wasn't a pro. Instead, he studied for a teaching post in sport and biology. With his first university examination in the bag, he quickly changed his plans. And became a stunt rider.
Read more