C 400 GT
PDSF de : 8 700 $
Prix ​​de vente total de : 9 900 $*
*Tous les prix et spécifications indiqués sont basés sur les prix de détail suggérés par le fabricant (PDSF). Les concessionnaires sont libres de fixer leurs propres prix. Les frais de transport et de préparation à la route, les options, la préparation par le concessionnaire, les impositions applicables (taxe sur les pneus), les droits et les frais d'administration sont compris dans le prix de vente total, lequel représente la somme du PDSF plus tous les frais applicables à titre d'exemple à des fins d'information uniquement. Les taxes sont en sus. Les prix se fondent sur une transaction au comptant. Des offres de financement et de location sont disponibles. Adressez-vous à votre concessionnaire BMW autorisé pour obtenir des détails à jour. BMW se réserve le droit d'apporter des modifications en tout temps et sans préavis.
Le modèle européen montré et peut inclure l'équipement facultatif ou les accessoires. Nous ne garantissons pas l'exactitude, l'exhaustivité, la fiabilité ou l'actualité de ces descriptions. Consultez votre concessionnaire BMW Motorrad agréé pour des détails précis. BMW Canada Inc. se réserve le droit de réviser les prix et / ou les spécifications à tout moment sans préavis.
The BMW C 400 GT.
The city in a new dimension.
What makes a city interesting? The diversity of people? The trends that emerge here? The countless possibilities? It's all this combined! To discover it requires a good level of fitness – one that accompanies you on longer tours through varied city life with comfort: the BMW C 400 GT. With it, the city's pulse quickens a bit more and your radius increases just like your digital connectivity with the world. Because with this mid-size scooter, you are just as comfortable and agile in the city as in the surrounding area. Discover your city in a new dimension with the C 400 GT and look forward to much, much more of what makes your city interesting.  
The design of the C 400 GT
Choose your style.
Your C 400 GT shows style. Your style! What colour underlines your individuality the best?
Alpine White
Alpine white gives your touring scooter a light and agile look. The independent design is optimally emphasized with this timeless colour.
Moonwalkgrey metallic
Confident and dynamic: the classic Moonwalk grey metallic convinces with a clear, sporty accent.
Blackstorm metallic
The Scooter certainly has a simple and classic appearance in the Black storm metallic paint job.
3 years warranty.
Ride on & on & on. We give you an extra year.
As of right now, you receive an extra year's worth of warranty in addition to the statutory warranty period when you purchase a motorcycle.
Progressive, innovative and full of emotion.
Get downtown! Or better: pure pleasure! This agile mid-size scooter allows you to conquer the city – whilst also being prepared for longer tours in the surrounding region. This is exactly what the design of the C 400 GT conveys: the sporty V-shape of the elegant trim panel components and the large-format windscreen protect you from the wind and weather and are testament to the urban desire for adventure. The ergonomically designed seat, which guarantees a comfortable as well as confident seating position – whether for the short jaunt or a longer trip – also contributes to this. The LED light technology is particularly striking: the iconic headlight with optional daytime riding lights and the integrated front turn signals provide a convincing appearance from the very first moment. And what looks really good from the front is also impressive from the rear: narrow, progressive and full of emotions – that's what makes the city even more fun.  
+ Lire la suite
Connected to the city – and the whole world.
Connected to the city – and the whole world.
This is how the future feels: BMW Motorrad Connectivity allows you to experience a real revolution in terms of connectivity on your C 400 GT. With this optional accessory, your smartphone and your scooter become one unit. To do so, your phone connects to the standard TFT display and can be intuitively controlled via the multi-controller on the  handlebars. The socket integrated into the storage compartment ensures that your smartphone remains as energetically charged as you do. Whether it's the playlist with your favourite sounds or the best route through the city: the innovative turn-by-turn arrow display allows you to navigate quickly and safely. And you always stay in contact with your friends. The BMW Motorrad communication system allows you easy access to your smartphone's contact list via the multi-controller, and thus to make phone calls on the go.

Take a look at the how-to video to find out how to use connectivity.
+ Lire la suite
One-cylinder combustion engine
25
kW (34 hp) at 7,500 rpm
212
kg unladen weight, road ready, fully fuelled
775
mm seat height (unladen weight)
3,5
Fuel consumption per 100 km based on WMTC
Water-cooled one-cylinder combustion engine
Efficiency that brings fun.
Efficiency that brings fun.
The engine concept was developed especially for the new mid-size scooters and ideally meets the special requirements of urban traffic. This is especially noticeable in the C 400 GT: low engine speed thanks to efficiency-optimized design, high gas speeds, efficient combustion and minimized friction losses. This not only ensures low fuel consumption, but also great driving pleasure. And all of that, of course, with emission values according to Euro 4. Thus, every tour proves that efficiency can bring a lot of fun.  
+ Lire la suite
The highlights of the C 400 GT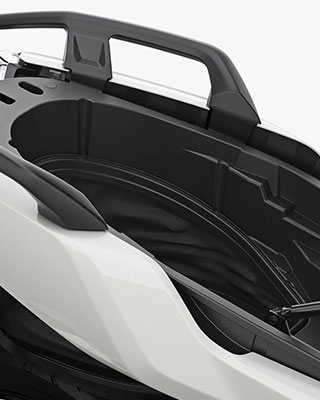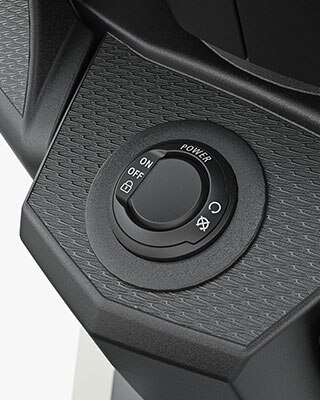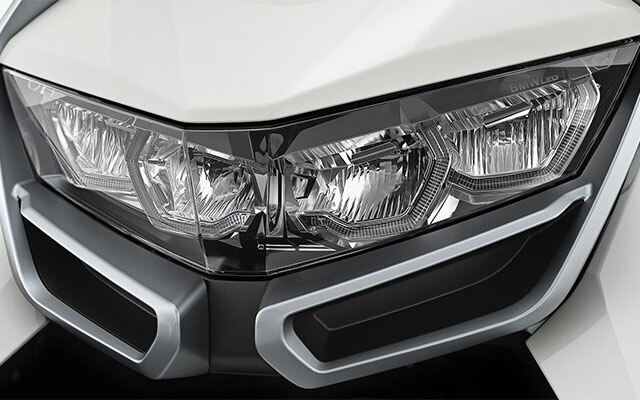 Connectivity (TFT Display)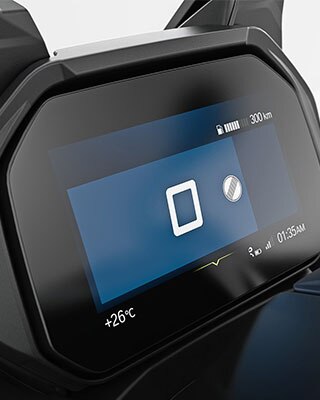 Ergonomics and wind protection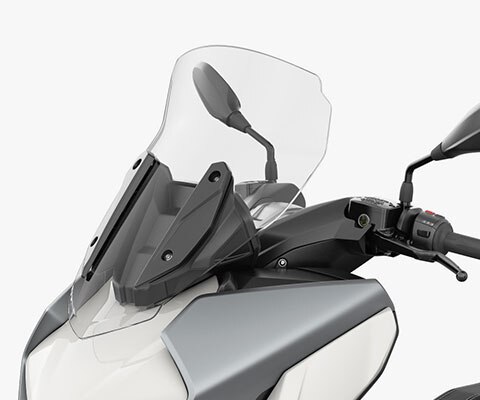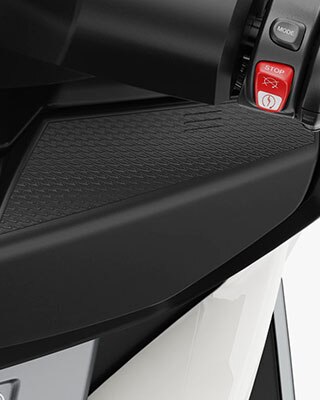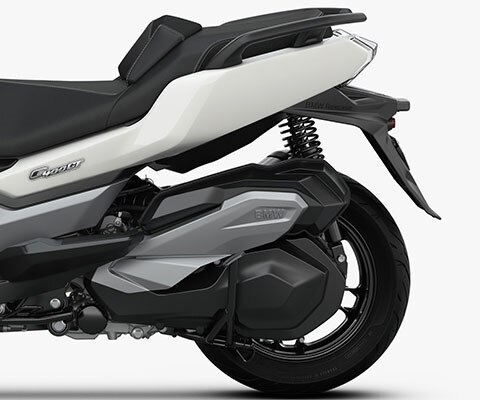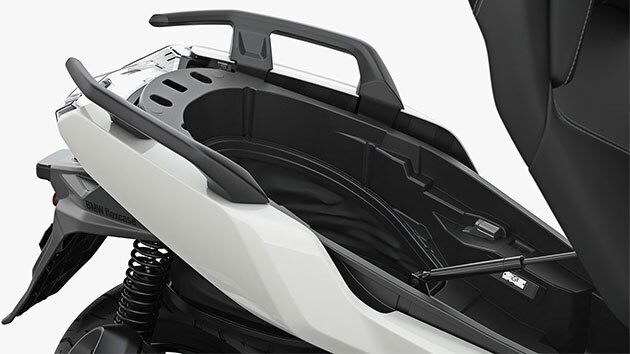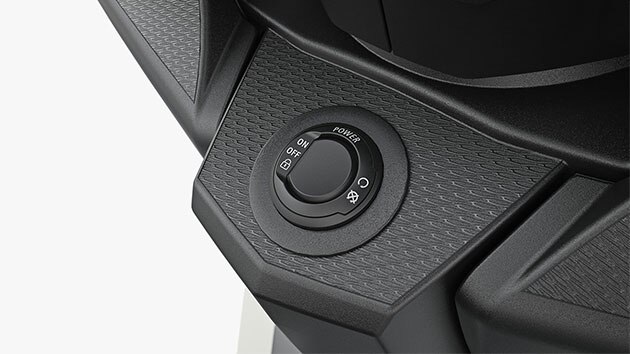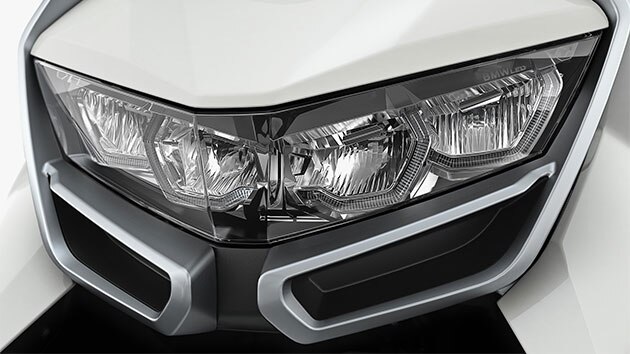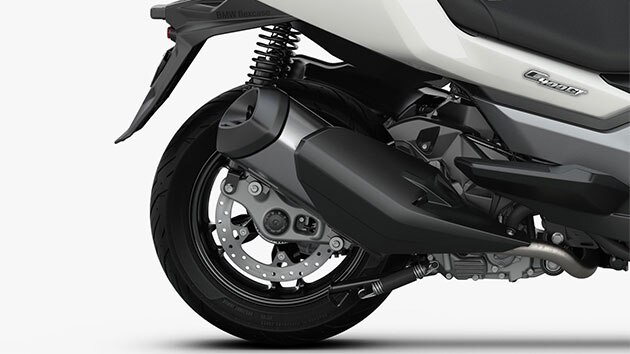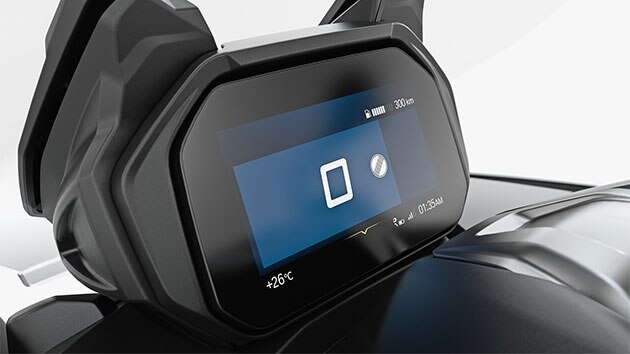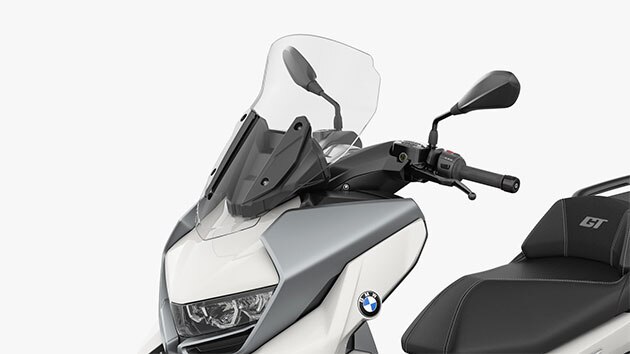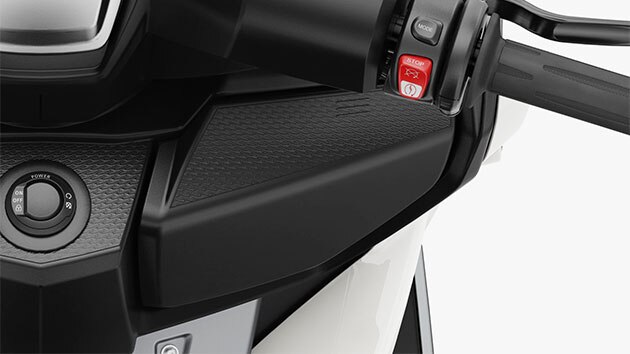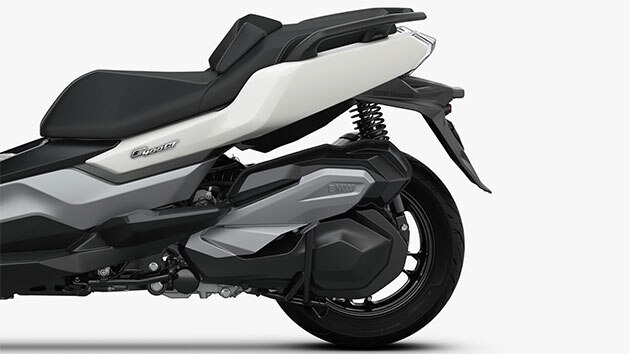 Experience more with more comfort.
Experience more with more comfort.
The city is not enough for you? You want to experience more? No problem with the C 400 GT. It effortlessly propels you through the tightest of alleyways with speed and agility and is impressive on larger tours thanks to its unique ride comfort. So you experience excellent handling characteristics, vibration-free and full of stability – on a straight road as well as on winding streets. ABS and automatic stability control (ASC) as standard ensure safety in any situation. And the C 400 GT with standard Keyless Ride is even more convenient.  
+ Lire la suite
Highlights in detail.
Ergonomics and wind protection

Comfortably protected against wind and weather.

The large-surface trim panel components as well as the high and wide windscreen provide optimal wind and weather protection. The position of the handlebars, the specially shaped seat and the relaxed foot position result in a perfect ergonomic triangle which is also very comfortable on longer journeys.


Connectivity (TFT Display)

Fully connected throughout the road network.

 

The C 400 GT in the scooter segment offers an innovative world innovation as an optional accessory: BMW Motorrad Connectivity. Using the high-resolution 6.5-inch TFT colour display, smartphone applications such as telephone calls, listening to music or navigation can be used simply and safely – even during the journey.

Efficient, powerful, consumption-optimised.


The engine of the C 400 GT is perfectly suited to the demands of mobility in the city as well as for excursions into the surrounding area: with a displacement of 350 cc and a power of 25 kW (34 hp) at 7,500 rpm, it is not just powerful, but also scores points with low consumption.

LED – for visibly increased safety.


The iconic headlight, which is consistently designed using LED technology, impresses with its self-developed LED daytime riding lights (optional) and the enormous light output of the dipped and high beam. The front turn indicators are integrated into the trim panel; the rear ones are integrated into the tail light.


Stability and safety.


Even in poor conditions, ASC allows you to stay in complete control. The automatic stability control prevents the rear wheel from spinning, thereby ensuring that the power is transferred efficiently onto the road, thus significantly increasing active road safety.
Experience the sound of the C 400 GT